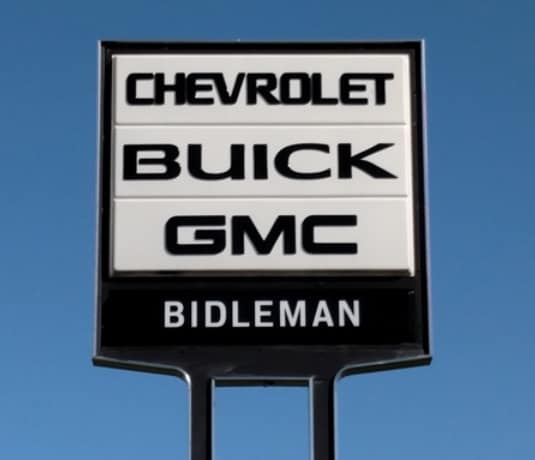 THE REASONS TO BUY FROM BIDLEMAN - YOUR CHEVROLET, BUICK AND GMC DEALERSHIP SERVING MEDINA, BUFFALO AND ROCHESTER, NY AREAS
When we say "real prices, genuine people" we mean it for many different reasons. At Bidleman Chevrolet Buick GMC, it is about the customer and their needs. It can be stressful and overwhelming buying a car, and the process can seem daunting, but at our
Chevy dealer in Albion NY,
we have done everything we can to take the weight of the car buying process of your shoulders. Listed below are some of the many reasons you should consider buying from us.
Bidleman Chevrolet Buick GMC provides all-inclusive services. This includes the sale of both used and new models, SUV's and trucks, replacement parts, vehicle maintenance, and collision repair services. We even set up extended warranty contracts and auto financing for the company's customers.1
We strive to make buying, selling, or even servicing your vehicle efficient and easy. That's why we deliver an experience that stands out from others! Other reasons you should consider buying from us Include:
Market-Based Pricing: We has sophisticated software that gives us the ability to compare car advertisements on the internet in seconds. By doing this we are then able to make sure that you are offered the best price possible, so you don't have to take time out of your day to research on your own. We offer a clear price upfront as well as an appraisal process. But, if you do want to get a head start on the buying or leasing process, our website is easy to navigate and gives an extensive list of our used and new inventories.
Outstanding people: Our staff will always try to do the right thing for you. Our customer means as much to us as the car you drive off the lot. It is important to know that you have someone that is accessible. We make time for your questions no matter the hour and take pride in servicing your needs with care and appreciation that you are working with us.
Accessibility and flexibility: Bidleman Chevrolet Buick GMC is stress-free to get to and easy to do business with. We will always try to work with your schedule! Our service team is open for calls from 8:00 AM to 5:00 PM and our sales teams is available from 9:00 AM - 8:00 PM except for Sundays when we are closed. Plus, we're hard to miss as we're right off Oak Orchard Road near Medina!
Customer satisfaction: Check out customer ratings for Sales, Parts, and Service to see what our customers think of us.
As soon as you enter our facility, you'll always be treated as our first priority. It is essential to us that we find the right vehicle for you. We're committed to making sure you are pleased with your experience! At Bidleman Chevrolet Buick GMC, it is our goal to give our customers an experience that will leave them happy with their purchase.
NEW AND USED CARS IN ALBION, NY
We are lucky enough to have a wide selection of both new and used vehicles. If you are worried about budget, let us find you a used car for an excellent price. Check out our website and see our inventory for new and used vehicles. It's easy and lets you search price, make, model and more; allowing for you to get one step closer to knowing what you like before you even get to the lot.
If these qualities appeal to you and what you are looking for in a dealership, come to check out our lot or give us a call, and we are happy to oblige any needs or concerns you may have. Buffalo drivers value the relationship they have with a dealership, and we value the relationship we have with our customers!
Hours
Monday

9:00 am - 8:00 pm

Tuesday

9:00 am - 8:00 pm

Wednesday

9:00 am - 8:00 pm

Thursday

9:00 am - 8:00 pm

Friday

9:00 am - 6:00 pm

Saturday

9:00 am - 5:00 pm

Sunday

Closed