The Service Center at Bidleman Chevrolet Buick GMC, Inc is Here for All of Your Car Maintenance and Auto Repair Needs
Premium Auto Service and Repairs from the Superb Service Team at Bidleman Chevrolet Buick GMC, Inc
If you're looking for auto maintenance near Batavia, NY, you don't need to look any further than our service center. We have everything that most folks want out of the auto shop that takes care of their car, truck, or SUV. After all, we know that taking care of a person's vehicle is a huge responsibility, and one that we don't take lightly. You will have the comfort in knowing that the service center at Bidleman Chevrolet Buick GMC, Inc, located at 4048 Oak Orchard Road in Albion, NY, is giving your vehicle the best of care when it is with us.
Service Offers And Pricing
We offer competitive prices on popular vehicle services like oil changes, brakes and tires.
Bidleman Chevrolet Buick GMC, Inc Has an Experienced Service Team
For many Buffalo, NY drivers, the idea that the service team working on their vehicle is experienced should bring about a lot of comfort. After all, who doesn't want the experts handling their automotive service? The way that we are able to provide high-quality auto service to our customers is because of the talented team that we have at our dealership. Our service center has an abundance of factory-trained, GM-certified service technicians available to work on your car, truck, or SUV.
This training means that they will know your Chevy, Buick, or GMC vehicle better than your local auto mechanic in Rochester, NY. They are experts in the lineup, and will be able to deliver you the efficient, yet thorough, car service and auto repairs you deserve. It certainly doesn't hurt that our highly-trained service team has state-of-the-art facilities, equipment, and tools with which to work. When you visit our service center, the goal is to always get you back on the road as quickly as possible.
Explore the Service Menu at Bidleman Chevrolet Buick GMC, Inc
Another reason that some Medina, NY drivers choose to do their car maintenance and auto repairs with our service team is because we have an extensive service menu. Most folks want to go to a service center that offers a full-service experience. They don't want to go to somewhere that can't accommodate the automotive service need they are currently experiencing. Our dealership has got you covered. Some of the services we offer include:
Engine Repairs
Wheel Alignments
Tire Rotations and Balancing
Oil Changes
Battery Inspections and Replacement
Brake Services
Gaskets, Seals, Hoses
Coolant System Flushes
These are just a few of the vast array of services and repairs we offer. Our service technicians are capable of taking on any job that is thrown at them.
We Use Authentic, Genuine GM Parts and Services
If you make an appointment to come into our service center, you may enjoy knowing that we don't spare any expense when we do work on your car, truck, or SUV. Every auto service or car repair that is performed on your vehicle by our service team is done with authentic, genuine GM parts and accessories from our parts center. We d this because we care about the performance of your car.
Authentic, genuine GM parts and accessories are the only products out there that are guaranteed and certified to work with your vehicle. They have the same warranties at the original auto parts in your car, and they are made to the same manufacturing standards. You can't say that about aftermarket parts. To help you get the best out of your car, truck, or SUV, we only use these auto parts.
View Our Service Specials
Since most of our customers are on a budget, we know that they will appreciate savings wherever they can get them. With the service specials at Bidleman Chevrolet Buick GMC, Inc, you can get discounts on commonly needed services. It is a great way to avoid neglecting doing your much-needed auto maintenance.
In the past, we have offered specials and coupons on services like oil changes, tire rotations, battery inspections, multipoint inspections, and wheel alignments. Visit our service center and keep some extra cash in your pocket.
Scheduling a Service Appointment with Our Team
Scheduling auto service and car repairs with Bidleman Chevrolet Buick GMC, Inc, in Albion, NY, is simple. Call our service advisors, or use our online service scheduler, so we can help you keep your vehicle healthy and fun to drive.
Maintenance
Need New Tires?
Your vehicle's tires are the first and only contact with the road, so it is important to choose the right set when replacing them. BIDLEMAN CHEVROLET BUICK GMC, INC. has Certified Service experts that will handle all of your tire needs. From checking tire wear to tire pressure, our team can also help you find new tires for your vehicle.
Need an Oil Change Near ALBION
Driving around with dirty oil - or not enough oil - can shorten the life of your engine. Our Certified Service experts can change your oil quickly. Schedule an appointment today.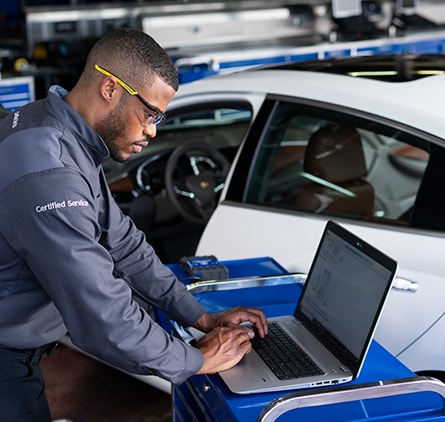 MULTI-POINT VEHICLE INSPECTION
With your Multi-Point Vehicle Inspection, you get a thorough assessment of your vehicle by the Certified Service experts. So protect yourself and your automotive investment with a comprehensive vehicle inspection at your BIDLEMAN CHEVROLET BUICK GMC, INC. today.
Download the GM Multi-Point Vehicle Inspection Sheet
The Multi-Point Vehicle Inspection form uses a simple color-coded key to assess maintenance terms:
Red indicates items that need immediate attention.
Yellow indicates items that should be addressed in the near future.
Green indicates no items to address.
Hearing Brake Noise?
Stopping power is crucial to a safe and successful driving experience. When you need brake service, visit BIDLEMAN CHEVROLET BUICK GMC, INC. and the GMC, Buick, Chevrolet Certified Service experts can recommend quality new brakes.
Battery Trouble?
Your vehicle's battery provides energy to start the engine, plus it supplies power to accessories when the engine is not running. The cold of winter and the heat of summer can affect your auto battery. See us for your vehicle's battery needs.
GET IN TOUCH
Contact Our Service Department
Monday

8:00 am - 5:00 pm

Tuesday

8:00 am - 5:00 pm

Wednesday

8:00 am - 5:00 pm

Thursday

8:00 am - 5:00 pm

Friday

8:00 am - 5:00 pm

Saturday

8:00 am - 5:00 pm

Sunday

Closed
See All Department Hours
Dealership Hours
Monday

9:00 am - 8:00 pm

Tuesday

9:00 am - 8:00 pm

Wednesday

9:00 am - 8:00 pm

Thursday

9:00 am - 8:00 pm

Friday

9:00 am - 6:00 pm

Saturday

9:00 am - 5:00 pm

Sunday

Closed
Service Dept. Hours
Monday

8:00 am - 5:00 pm

Tuesday

8:00 am - 5:00 pm

Wednesday

8:00 am - 5:00 pm

Thursday

8:00 am - 5:00 pm

Friday

8:00 am - 5:00 pm

Saturday

8:00 am - 5:00 pm

Sunday

Closed
Parts Dept. Hours
Monday

8:00 am - 5:00 pm

Tuesday

8:00 am - 5:00 pm

Wednesday

8:00 am - 5:00 pm

Thursday

8:00 am - 5:00 pm

Friday

8:00 am - 5:00 pm

Saturday

8:00 am - 5:00 pm

Sunday

Closed